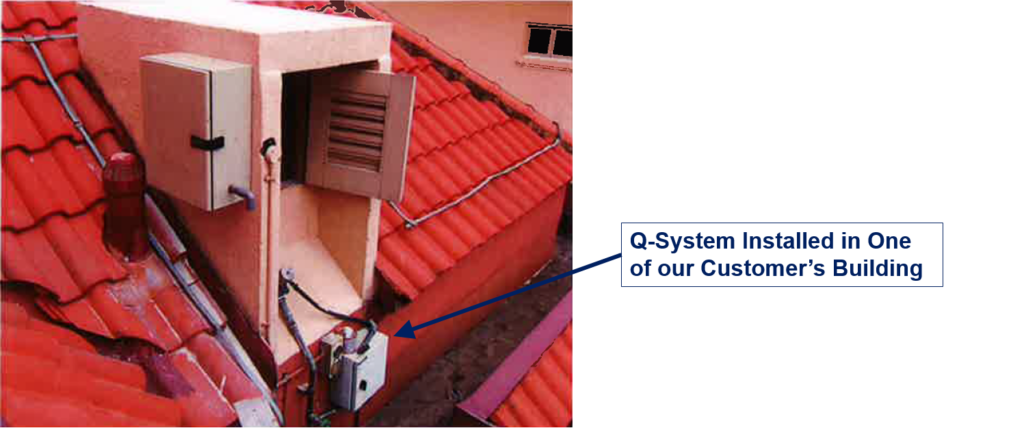 Garbage chutes can be an ideal breeding ground for rodents and pathogens like, bacteria, mosquitoes, cockroaches among others that could not only present health risks but also make your environment very untidy. Whenever the doors or openings to the chutes are open, these germs could find their way into the building or air, causing infections. Without proper cleaning and sanitization, rubbish chutes can also become smelly over time due to accumulation of wastes along the walls of the system.
Owing to the various risks posed by using rubbish chutes, they need regular cleaning in order to avoid the spread of germs and bad odors. Effective rubbish chute cleaning can also help in eliminating cases of rubbish chute chokage, ensuring efficient garbage movement within the contraption system. However, cleaning bin chutes can be a great challenge considering the systems are enclosed units that you cannot open or get inside in order to clear garbage build-up.
At Rubbish Chute Singapore, we are committed to making the task of rubbish chute cleaning efficient, easy and safe. And, this can be achieved through the Q-system that is offered by our company. This is the right equipment that you need in order to effectively clean and sanitize the bin chutes in your building. One of the main benefits of our garbage chute cleaning and sanitizing system is, it can be used in cleaning rubbish chutes in both residential and commercial buildings.
The Design of Our Q-System and How it Works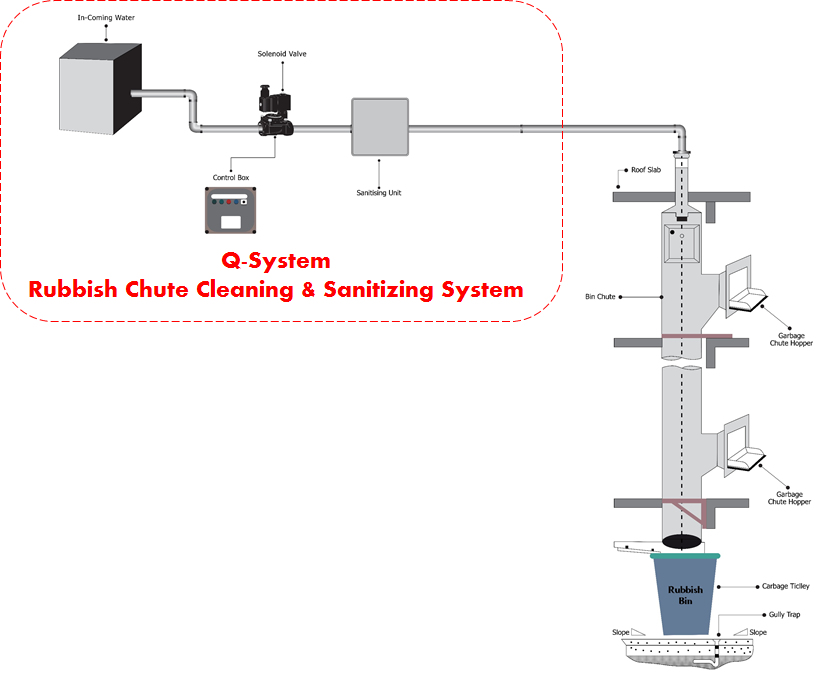 In order for you to appreciate the benefits of using our garbage chute cleaning and sanitizing system, it is important that you first know its design and also how it operates. Contrary to what some may think, the Q-system has a unique but, simple design that enables it to operate independently in cleaning and sanitizing rubbish chutes fast and effectively. In fact, this is the right equipment that you can always rely on for stress-free bin chute cleaning in your home or office.
The Q-system is compatible with several bin chutes and can be easily installed with basic DIY skills. It mainly works by flushing out the internal walls of the bin chute to prevent accumulation of waste that could provide a breeding ground for bacteria and other germs. Since garbage chutes are installed on high rise buildings, the Q-system is fitted onto the entry points to the chutes on the highest level. This ensures that all the internal walls and surfaces of your garbage chute are effectively cleaned and disinfected.
In order to effectively scare off bacteria, rodents and bad smell, the Q-system contains a special liquid or solution that is released into the chute system. The equipment has a flushing spray head used to periodically dispense the sanitizing solution down the rubbish chute. Depending on your needs, you can either operate the Q-system manually or set it to  automatically clean and freshen your rubbish chutes. It has a control panel from where you can simply program it to do the cleaning and sanitization of the chutes automatically.
Depending on the number of times that the system is used, the liquids or sanitizers are to be replenished. In this way, you will be able to enjoy consistent and efficient rubbish chute cleaning and sanitizing. However, you have no reason to worry about that since we can handle all the maintenance procedures for the equipment.
While using the Q-system, you do not have to scrub or manually clear the surfaces of the bin chute. The solutions released by the equipment are quite effective and will make it impossible for pathogens or germs to survive in the chute system. Regardless of the number of rubbish chutes on your building, our Q-system will ensure effective and reliable cleaning and sanitization of the entire system with the least effort.
Owing to the minimal components and simple design of our Q-system, it is always very easy to operate. Whether you choose the manual or automatic Q-system, there is no expertise required to operate the equipment. With a programmable garbage chute cleaning and sanitizing system, you only have to set the equipment to dispense the solutions into the chutes automatically on intervals. Apart from the ease of use, our Q-systems also require very little maintenance, which we can perform on request.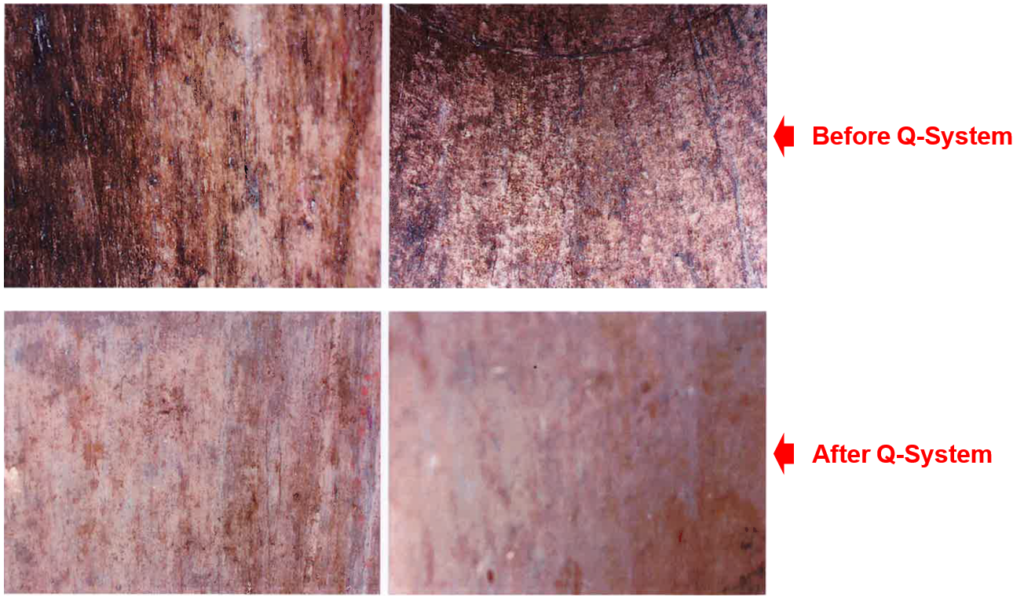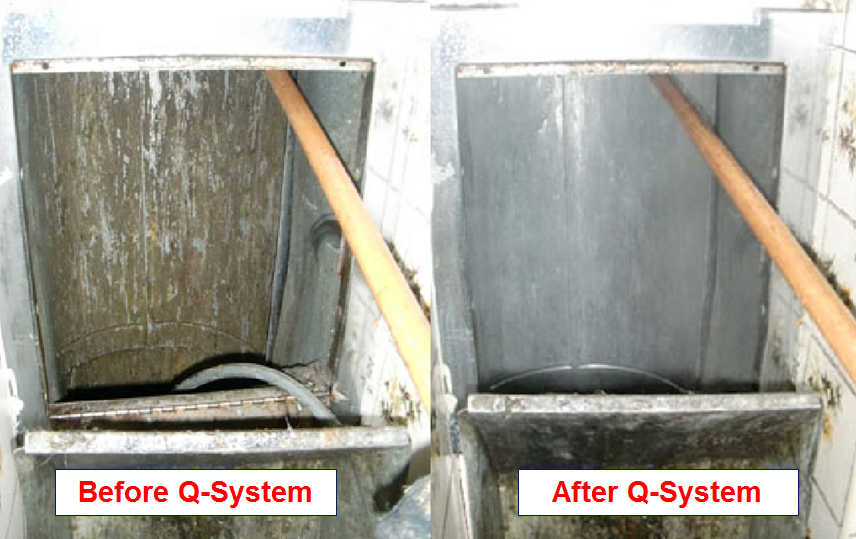 In case you use rubbish chutes to collect waste in your home, office, condominium or warehouse, our Q-system is an important equipment that you should acquire. We understand that sometimes, you may not be able to afford the cost of buying a Q-system for your building. Thus, we provide the best garbage chute cleaning and sanitizing system for lease, which you can always acquire at any time of need.
Obtaining our Q-system on lease is the most suitable option that will not only help you save some money but, also guarantee the best rubbish chute cleaning and sanitizing. At Rubbish Chute Singapore, we offer the best quality garbage chute cleaning and sanitizing equipment that you can acquire on any schedule. The following are some of the key points that you should always have in mind when obtaining a Q-system for lease from our company;
We provide Q-system lease for a period of up to 3 years
Our company will provide the equipment, install it for you and also perform regular maintenance including, re-filling the sanitizers and solutions
For first time users, we can also install a trial Q-system on one rubbish chute in your building for 2 months to test its effectiveness.
In order to get you started with the Q-system, we will offer basic training on how to operate and handle the equipment for the best results in chute cleaning and sanitizing. Even after obtaining the lease, you can still talk to us for help whenever you are experiencing any problem with the equipment. In this way, there is always a guarantee of the best experience with our Q-system.
Get in touch with us for the best quality and affordable garbage chute cleaning and sanitizing system Singapore. We can deliver the right Q-system rental at your own convenience.