The Ultimate solutions for efficient and effective garbage chute cleaning and sanitizing
Rubbish chutes are efficient in the collection of garbage in both residential and commercial high rise buildings. However, there are a few common problems that are usually experienced while using the equipment, which could impact health hazards like, bad odors, mosquitoes, cockroaches and rats. Dealing with these issues can be very challenging, especially when you do not know the right approach to pursue.
In buildings with rubbish chutes, waste is thrown into chutes from where they are automatically pushed down to a central collection point. Since huge amounts of waste is deposited into the chutes almost each day, they are able to accumulate and even start decomposing. As a result of this, it is very easy for the equipment to attract bacteria and other germs that thrive in waste if the system is not cleaned. These will not only put you at risk of infection but also make the environment to look untidy.
In some cases, most people usually resort to manual cleaning for their rubbish chutes. However, that is not only tiring but can also take so much of your time. Besides, doing the process manually is also not effective in driving out bacteria and bad smells from the chute. And, these are some of the reasons you should consider the Q-system that is offered by our company. In fact, the best and most effective way for preventing build-up of bacteria and bad smell in rubbish chutes is through our Q-system.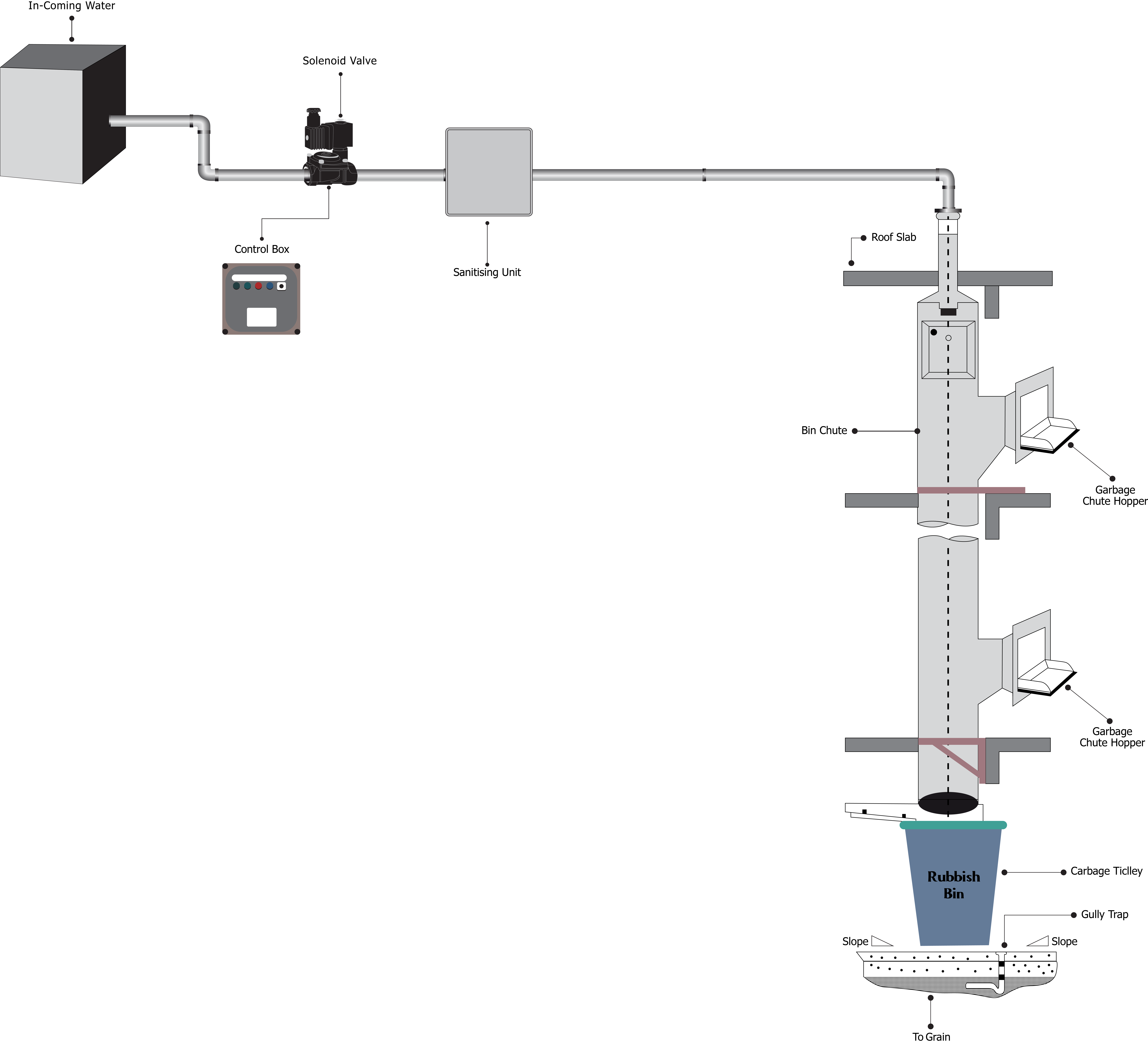 The Best Garbage Chute Cleaning and Sanitizing System
Our company provides the Q-System, which is the best rubbish chute cleaning and sanitizing equipment that can deliver the desired results in maintaining proper hygiene of the garbage chute and building. We understand the risks that can be caused by a poorly maintained rubbish chute and, have the right equipment for ensuring that you are safe from any of them.
At Rubbish Chute Singapore, we have the best solutions for highly efficient and effective garbage chute cleaning and sanitizing. Our company operates and rents out the Q-system, which is a highly efficient and effective equipment for rubbish chute cleaning and sanitizing. Through our rubbish chute services, you will be able to enjoy greater convenience in rubbish collection without any risk to the people using the building as well as the environment.
The garbage chute cleaning and sanitizing system that we offer works in a very simple way but, delivers the desired results in terms of proper rubbish chute hygiene. The Q system contains chute cleaning and sanitizing liquid, which is released into the equipment periodically to clean and disinfect it. The liquid can effectively clean and sanitize the openings as well as walls of the rubbish chute that come in contact with garbage.
Our waste chute cleaning and sanitizing equipment is enhanced with the most effective solutions that will also improve the condition of the chute to avoid any odors or smells. The chute cleaning and sanitizing liquids that are used in the Q-system creates an unfavorable condition for the growth of pathogens like, bacteria. In fact, this will even help in avoiding problems like, chute chokage for easy movement or waste into the collection point on the lower level of the building.
Benefits of Using the Q-System
There are numerous benefits that you will be able to enjoy with our rubbish chute cleaning and sanitizing equipment in your home or commercial building. The following are the main benefits of using our Q-system;
Consistency in garbage chute cleaning and sanitizing
Choice of either manual or automatic chute cleaning
Safe and effective rubbish chute cleaning with the best solutions and sanitizers
Saves you a lot of time and money
Our rubbish chute cleaning and sanitizing system for lease will eliminate the stress of having to manually clean your rubbish chute. The Q-system can independently work on cleaning and sanitizing the chute at the required intervals even in your absence. With this equipment, you are always assured that your rubbish chute will be effectively cleaned whenever there is a build-up of garbage without any effort on your part.
Our company can help you with installation of the Q-system on your building as desired. Besides, we can also perform various maintenance services on the system like, replenishing the sanitizers to ensure that it operates in the best way. This will enable you to maintain clean rubbish chutes without experiencing bad smell, bacteria, rats, cockroaches and mosquitoes coming from accumulation of waste in the system.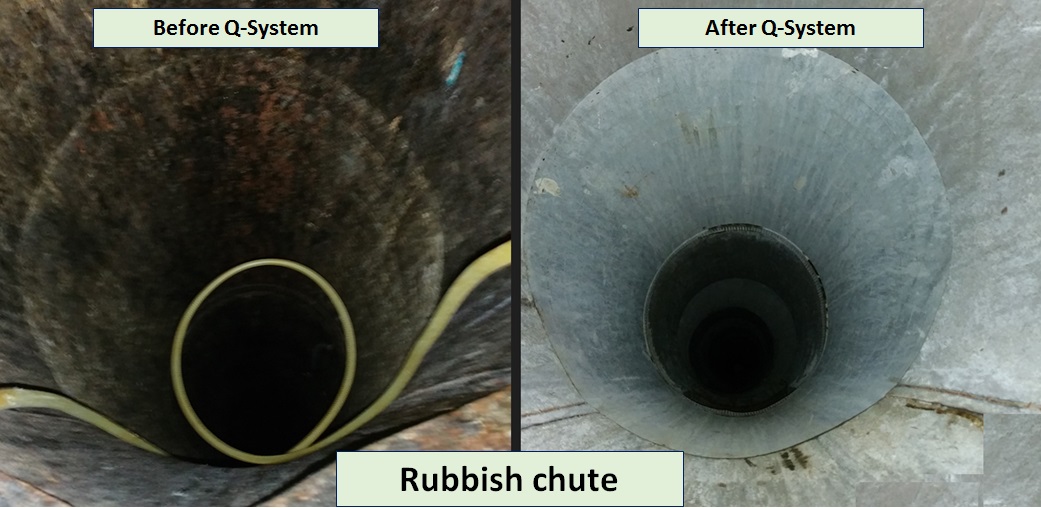 Get the Right Equipment for stress free and effective rubbish chute cleaning and sanitizing
Buying the best chute cleaning and sanitizing equipment can sometimes prove expensive and, that is why our company offers a better option to ensure that you can still enjoy the benefits without necessarily buying the system. At Rubbish Chute Singapore, we offer the best quality Q-systems for lease. This is usually a more economical option for maintaining better rubbish chute hygiene.
Whenever you rent a chute cleaning and sanitizing equipment from our company, there are several things that we will also offer you for the best experience while using it. Generally, the Q-system does not require an expert to operate since it can be simply programmed to perform all the required functions independently. However, we will give also offer rubbish chute ideas on how to efficiently operate and preserve the system for the best results.
Although the amount of wastes deposited in rubbish chutes can vary from one building to another, almost every office and home generate garbage on a daily basis. As a result of this, we offer the equipment on longer lease terms. Our company offers Q-system rental for up to three years. This equipment is readily available and can be delivered to you at any time and also, anywhere in Singapore.
For the entire duration that you will be using the garbage chute cleaning and sanitizing equipment rental, we will offer regular maintenance of the system. This is important in ensuring that you do not have any problems while using the Q-system in your building. We can always create a schedule for our personnel to visit your building for maintenance of the rubbish chute cleaning equipment as required. With this, you will not only ensure better rubbish chute hygiene but, also preserve the condition of the equipment for enhanced performance.